Common Book and Paper Sizes - UK Book Printing
As UK Book Printers we can create your title in almost any size, but just as a general guide, here are the most commonly produced sizes: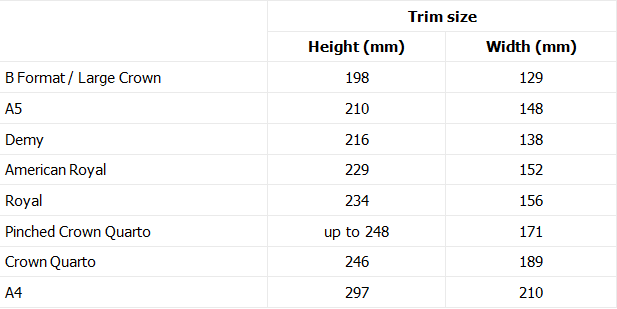 Feel free to contact us should you have any questions or wish for advice on what size would be best for your title - call our team on 01202 739993
Which paper is right for me?
Paper selection is an important element in print projects. Selecting a paper can often be very confusing; there are numerous different types and brands of paper available today. When selecting Substrate, be sure to keep in mind that the choice you make for your project will affect how the printed piece is perceived.
Please call us to discuss your requirements - we're happy to provide advice on the most suitable paper stocks to use for your project - 01202 739993
Finish: The finish of a paper/substrate is its surface texture. Uncoated and coated paper has different surface textures.
Wove or Smooth: A smooth uncoated surface.
Laid: A paper that is manufactured with textured lines on its surface. This finish is used mostly for business stationery elements, like letterhead, envelopes and business cards.
Linen: Similar to a laid finish, this Substrate has textured lines on the surface of the sheet, but they are finer and more regular than those that appear on a laid finish stock. This paper is also used frequently for business stationery.
Laser: A paper that is guaranteed to be compatible with laser printers.
Coated: A paper with a waxy finish (shiny or matte).
Uncoated: A Substrate with an untreated surface that is dull and unreflective.
Coated One Side (C1S): A cover stock that has a coating on one side and is dull on the reverse side.
Coated Two Sides (C2S): A cover stock that has a coating on both sides.
Weight: The weight of a Substrate refers to its thickness and is measured in grams (gsm). The higher the number, the more (equivalent) weight a paper has (the thicker/heavier the Substrate).
Opacity: A paper's opacity is determined by its weight, ingredients and absorbency. A paper's opacity determines how much printing will show through on the reverse side of a sheet. Opacity is expressed in terms of it's percentage of reflection. Complete opacity is 100% and complete transparency is 0%
Brightness: The brightness of a sheet of Substrate measures the percentage of a wavelength of blue light it reflects. The brightness of a piece of Substrate is typically expressed on a scale of 1 to 100 with 100 being the brightest. Most papers reflect 60-90% of light. The brightness of a Substrate affects readability, the perception of ink colour and the contrast between light and dark hues.
Please call CMP Book Printing on 01202 739993 and speak to our dedicated Customer Services Team.