Digital Brochure Printing
High quality, on demand printing services
Whether you are a sales and marketing professional, estate agent or property developer - presenting your business in print shouldn't have to be a compromise between quality and quantity.
Many of our customers require a very low "on demand" print run for high end marketing material such as A4 landscape or 6 page A4 brochures. Due to our in-house technology we can offer incredibly low print runs for these kinds of brochures and importantly - meet the most stringent of turnaround times.
Our digital print on demand service is specially designed to support businesses like yours with near 'litho quality' long or short run marketing materials for any purpose or occasion including:
A4 landscape & portrait brochures
A5 landscape & portrait brochures
DL (99mm x 210mm)
Square (210mm x 210mm)
With a range of binding options available including perfect bound, saddle stitched, square back and score and fold - short run brochure printing means:
Reduced costs
Reduced stock holding
No make-ready costs
This gives you the freedom to order the exact quantity you need, from one to one thousand and beyond.
Whatever your colour print requirements, we can print on a wide range of stocks including matt, gloss and silk art papers up to 350gsm in weight and a flat sheet size of 320mm x 700mm.
Making The Right Print Decisions For Your Brochure
From choosing the ideal brochure size to carefully selecting paper stock and finish - understanding all of the printing possibilities at your disposal is critical to producing your desired end product. If you require direction in any of these areas then simply call us on 01202 739993 and we will be delighted to talk you through your range of options.
Alternatively, we have put together a simple guide to paper stock and finishes as well as how to choose the right binding style for your brochure.
Saddle Stitched Brochures & Booklets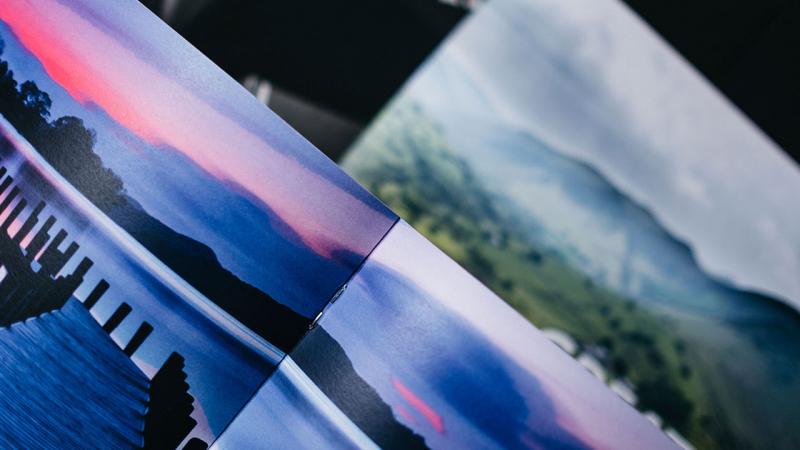 A saddle stitched brochure or booklet is bound together along the spine and held together with staples or "stitches." For larger documents we square off the spine to prevent the brochure from flapping open in the middle and compromising the look and feel of your product.
This method of binding adds very little weight to the final product making it the ideal solution for direct mail. What's more, it is a very cost effective option and perfect for projects with a tight deadline due to the straight forward nature of saddle stitching.
Perfect For:
Long and short run production
Lightweight brochures, booklets and magazines of up to 60 pages
A professional look and finish
Controlling cost & quick turnaround
Perfect Bound Brochures & Books
Ideal for thicker brochures and books, a perfect bound document is held together with a strong and flexible thermal glue and can be several inches thick. Due to the square, spinal edge - this type of brochure/book can be stacked and displayed in a very professional manner. Unlike saddle stitched or spiral bound products, a perfect bound document can feature a title or any other relevant information along the spine which is ideal for soft cover books and weighty corporate material.
Perfect for:
Soft cover books
Thicker reports, manuals & guides that require a long life cycle
Documents with a spine width of at least 3-5mm thickness
Highly professional appearance
Square Back Brochures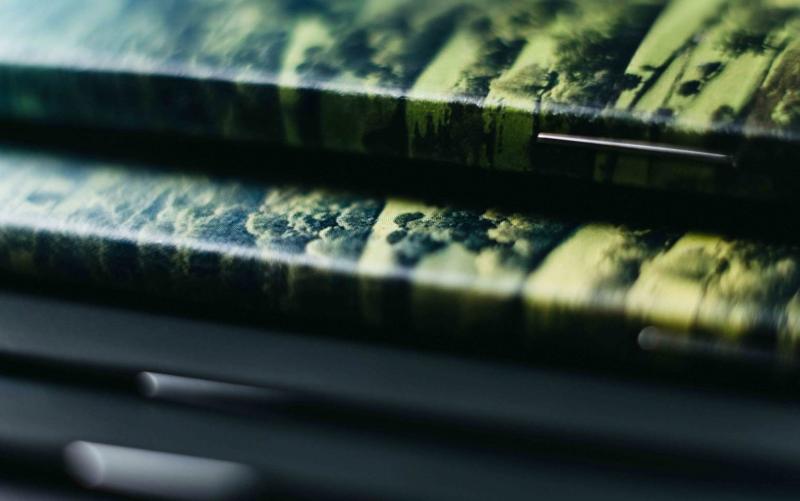 Square back binding is an option that is available for thicker saddle-stitched booklets. Its square spine gives the aesthetics of a perfect-bound brochure but at a lower cost. This affordable solution is perfect for short run printing and couples the security of a saddle stitched spine with the professional appearance of a perfect bound square spine. This type of binding is ideal for when quantities of any economic print run and works well with a variety of paper weights.
Perfect for:
Adding a professional look to brochures at an affordable cost
Short run "on demand" printing
Brochures that need to be neatly stacked and displayed
Score and Fold Brochures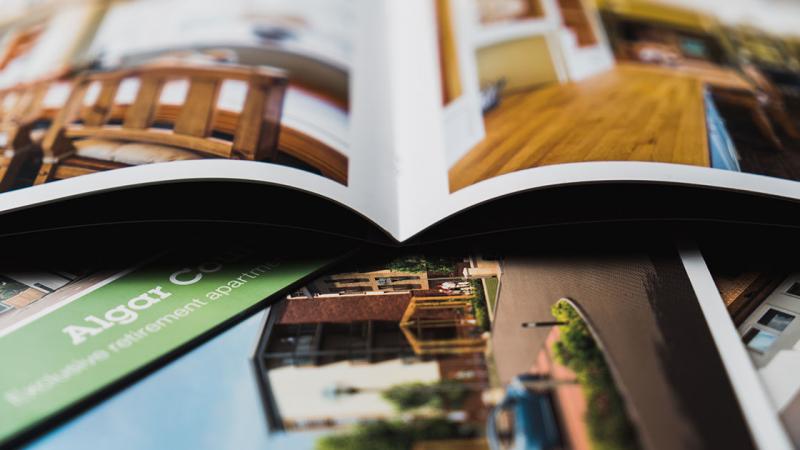 To score or not to score.... that is the question. And this will depend on a variety of factors including paper weight, whether or not the fold of the brochure is against the grain of the paper and the level of ink coverage across that fold. If fold placement is critical to the design of your brochure - let's say that colour breaks feature very closely to the edges - then even the slightest inaccuracy in the fold will carry over an unwanted fraction of colour. For this reason, scoring would be an essential part of the production process. As your printer, we will have a very good idea of whether scoring is essential to the outcome of your project so rest assured that we will step in to advise you if necessary.
So how does scoring work? Well, in essence - the process of scoring allows the fibres of the paper to be compressed so that stiffness is decreased and a high quality fold can be achieved. This maintains the professional look of your brochure by eliminating the threat of an ugly cracked fold which can sometimes occur during the mechanical folding process.
Perfect for brochures that:
Are to be produced on a paper stock of 150 gsm and above
Will be folded against the grain of the paper
Feature heavy ink coverage across the fold
May require manual folding due to a specialised format
Have critical fold placement or colour breaks at the fold
Choosing the Right Paper
There are many things to consider when it comes to selecting the right paper stock and finish for your project. It is obviously best to choose heavier stock for a cover while inner pages should be lighter in order to prevent your document from parting in the middle. We offer both silk and gloss finishes on paper stock ranging from between 115 and 350 gsm (grams per square metre.)
As a general rule, 170 - 300 gsm would be a suitable stock for the majority of marketing brochures, books and booklets. If you are dealing with a large number of pages then you may wish to work with a gsm of around 250 in order to ensure your document isn't overly heavy or cumbersome to read. Consider how you will be distributing your material - if it will be by post then opting for a lower gsm will save you money.
Now, let's look a little closer at the differences between silk and gloss paper.
Silk
Laying somewhere between a matt and gloss finish, a silk finish will still offer a distinct sheen but with the added benefit that it can be written on with a ball point pen. Certainly a good choice if your customers may wish to make notes on your marketing material during meetings and conferences. A silk finish is very popular with the majority of marketing professionals who wish to print brochures, posters, booklets and so on.
Gloss
With its distinct mirror like shine, gloss paper is a favoured choice for those requiring a premium high end effect. Due to the fact that a glossy finish absorbs ink more effectively - images will be more vivid and eye catching. Because of this, many high end estate agents, property developers and car dealerships opt for a high gloss brochure to accentuate the luxurious nature of their properties and products.
If you would like to know more about any area of the printing process then we will be delighted to help! Simply call us today on 01202 739993 or request a brochure printing quote below and we will be in touch shortly.