CMP Sponsored Soccer Schools Hit Record Numbers
During the Easter break over 800 children flocked to AFC Bournemouth's Community Trust's Soccer Schools. A new record for the community programme.
Sponsored by CMP, the Community Sports Trust encourages boys and girls aged between 4 and 14 years to get out and play football and have fun, regardless of ability.
On Wednesday the 19th April over 150 children attended the session at the Littledown Leisure Centre, one of the biggest days for the soccer school.
Attendees were given pointers by AFC Bournemouth legends Lewis Cook and Steve Fletcher.
Steve Fletcher spent 15 seasons playing for Bournemouth and still holds the club record for appearances. Since their rise to the Premier League Steve has become an important member of the first team coaching staff as well as an ambassador for the club.
Lewis Cook has been with Bournemouth since July 2016 having played for Leeds United and the under 19s England squad.
At just 20 years old he's gone up against Premier League giants Manchester United and Tottenham Hotspur. He was instrumental in Bournemouth's incredible performance against Middlesborough.
Cook considers this season to have been an amazing learning experience and has "come out of this season a better player".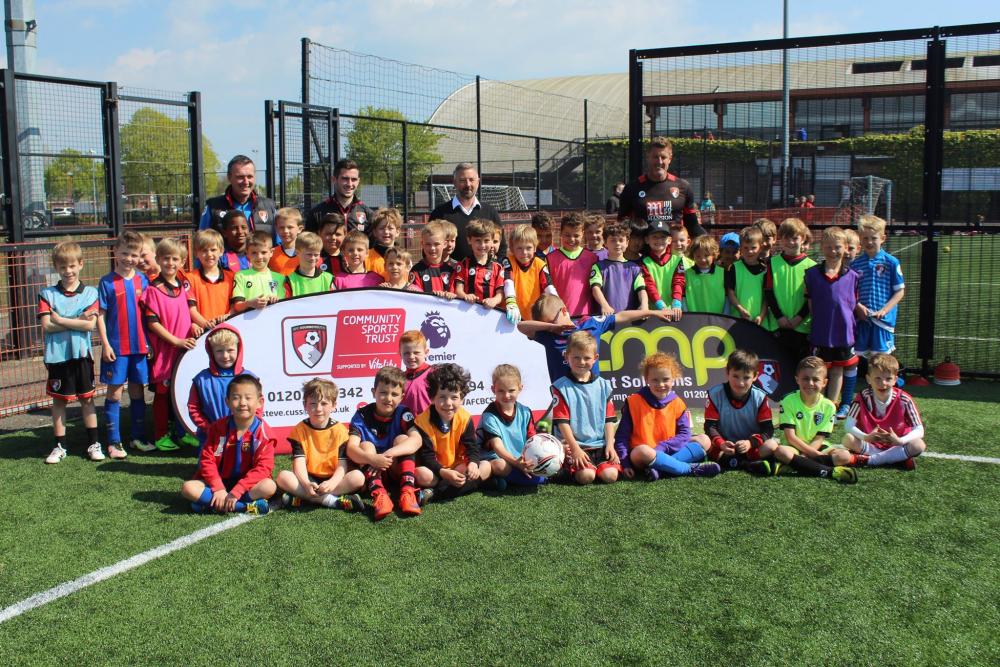 The two legends took to the pitch helping the children develop their skills and then took the time to field some questions during a Q&A session at the end of the day.
Managing Director of CMP, Paul Dawe, donated 6 footballs to be awarded to participants, all of which were signed by Lewis and Fletcher.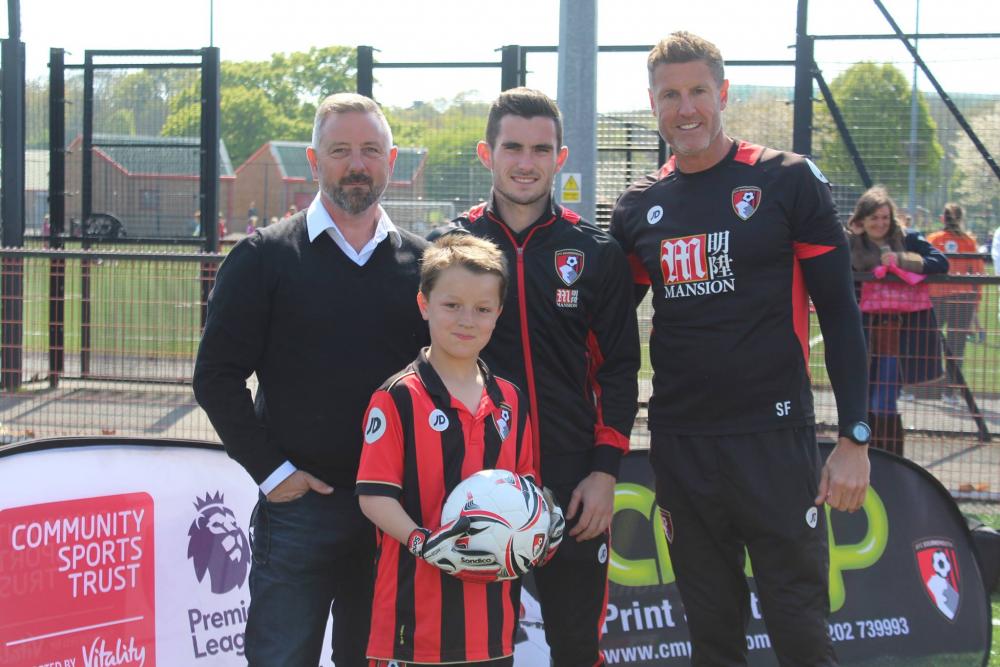 Paul said:
"It's an absolute pleasure to support Steve and the guys in all that they do and provide for the community.
Without these soccer schools and the dedicated individuals, grassroots football would not reach as many children in as many communities as it does today.
I'm just glad we can contribute and help bring football to so many children."
CMP are in their second year of sponsoring the AFCB Community Sports Trust and we're pleased and proud to see the soccer schools flourish in the way they have.
Support by local legends like Lewis Cook and Steve Fletcher clearly has a positive impact on attendance and on the children too. It just goes to show, you can meet your heroes.
Head of Community Sports Trust Steve Cuss added:
"We are very grateful for the continued support of CMP. The Easter Soccer Schools recorded the higest ever numbers of boys and girls attending school holiday activities with over 800 taking part throughout the fornight of activities."
In our 22nd year of business the success of the soccer schools reinforces our belief that great people (and a little community spirit) can achieve great things.
If you're interested in discovering how CMP can support you click here to learn about our services. Or, alternatively, contact us today.
Back to Listing
Previous
Next