Hyndman Subs In at CMP Community Sports Trust
Children attending the CMP Community Sports Trust soccer school were surprised by a visit from American midfielder Emerson Hyndman.
Hailing from Dallas, Texas, Hyndman debuted in English football playing for Fulham before moving to AFC Bournemouth in June 2016. Hyndman has also had the honour of representing his homeland as part of the under 17s team the senior national team.
Hyndman made a special guest appearance to hand out prizes to the trainees and take part in a question and answer session.
The CMP sponsored Community Sports Trust holds soccer training for children between 4 and 14 during school holidays all year round.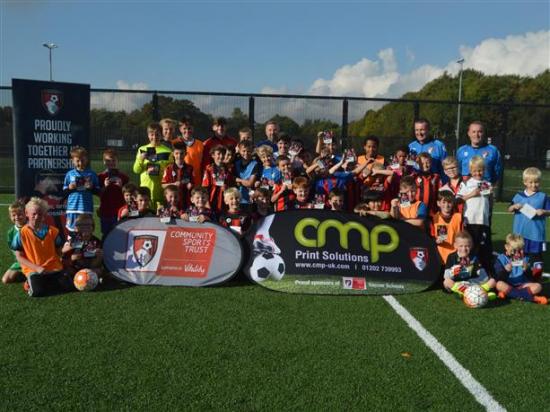 Image courtesy of AFC Bournemouth
The Soccer Schools programme allows children to hone their skills through penalty competitions, skill based games and small-sided matches and all courses are run by qualified coaches.
Whilst the programme's emphasis is on fun and developing children's skills, the message of community, friendship, fair play and personal development runs throughout.
The Community Sports Trust as whole works with 4,000 people a week from ages of 1 to 80 years old.
"It was great to check out the soccer schools," Hyndman told afcb.co.uk. "It was a great afternoon and really good to meet some of the players and coaches.
"It was my first visit to the soccer schools and the facilities and coaches that the younger generation has at their disposal are fantastic."
As continuing sponsors of the Community Sports Trust we're immensely proud of the work the team do engaging with children and young people and feeding their enthusiasm for the Beautiful Game.
Amy Marks, partnerships executive at AFC Bournemouth, said: "The soccer schools are becoming increasingly popular during school holidays and half term so it is fantastic to have a local, long standing client such as CMP supporting the programmes.

"We look forward to another exciting year in working alongside CMP."
Our Managing Director, Paul Dawe said: "It's an absolute pleasure to support Steve and the guys in all that they do and provide for the community.

"Without these soccer schools and the dedicated individuals, grassroots football would not reach as many children in as many communities as it does today. I'm just glad we can contribute and help bring football to so many children."
To learn more about CMPs involvement with the Community Sports Trust click here.
To learn more about how CMP can support your business click here.
Back to Listing
Previous
Next