CMP Print Celebrating 25 Years of Business
We are over the moon to be celebrating 25 years in business, working with a team of client-focused professionals.
We are considered by many to be one of the UK's leading digital printers as we offer a vast array of printing services to publishers, authors, manufacturers and training companies. Producing high quality paperback, hardback and coil bound books in black and white, full colour or a mix of the two, our mission is to provide and unrivalled services, with regards to cost and print finish.
Since 1995 our team have been pushing the boundaries of digital print, choosing innovation over the ordinary and delivering an unchallenged service to our worldwide audience.
Developing our procedures to ensure a fast and effecient service, our emphasis has always been on providing our clients - both big and small - with a high quality, end-to-end service that gives them the freedom to focus on their core business.
Twenty-five years is a long time to be trading and it's a testament to the way we do business and the interactions we have with our clients. In 2003 we steered ahead and bought our own building, which enabled us to future-proof the business and gave us the resilience to successfully navigate our way through the recession in 2008.
Through our continual investment in emerging technologies, we are ideally places to provide true 'on-demand-print' at quality levels generally expected of more traditional methods of print.
We pride ourselves on supplying our clients with their own innovative and unique digital printing solutions and our ever-growing client base provides proof of this.
Our aim has always been for our customers to be able to focus on their core activity and rely on us to facilitate that by providing a timely service for their high-quality materials. We strive to add value by working closely with them to address the pinch points and offer solutions to remove them.
We welcome one-to-one contact with our clients and are always happy to share the knowledge that we have gained over our many years. Our key objective is to supply a high-quality service that will keep you coming back for more. Our hope is that this personal approach will lead to life-long partnerships.
The business is led by our Owner & Managing Director, Paul Dawe, who spent some time sharing his thoughts and memories over the last 25 years.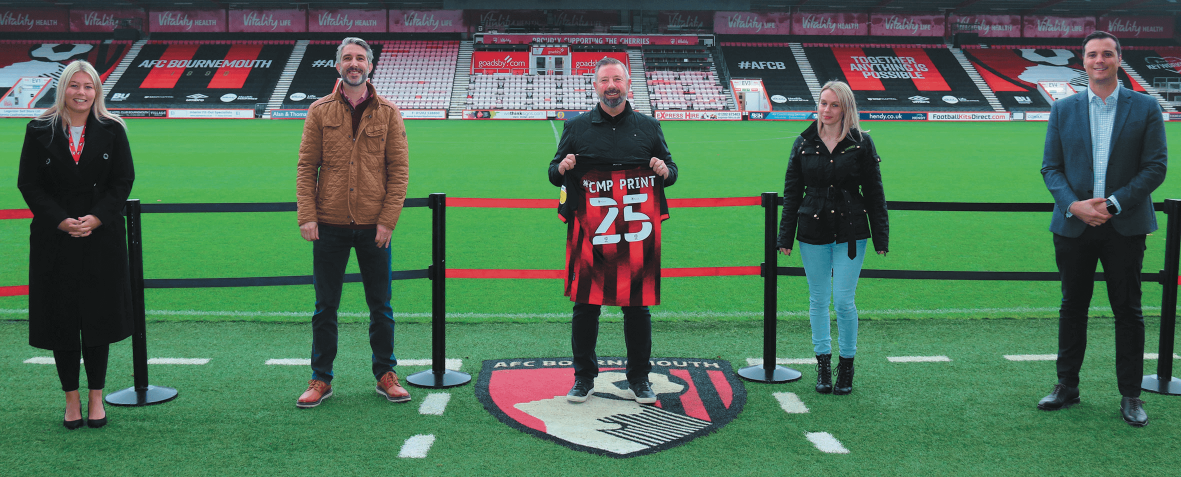 An Interview With Paul Dawe
The role of Print Buyers within businesses has changed over the years, with CMP being asked to manage print-buying for clients on a more regular basis.
As a digital print company specialising in manufacturing, training and publishing, we're able to offer solutions to our customers in ways that many others can't.
We pride ourselves on the level of consistent customer service we provide. Offering 'just in time' quality delivery and maximising cost-efficiency for our customers ensure that they feel loved and appreciated while building trust and ensuring repeat business.
Many of our clients have been with us from the very beginning back in 1995 and I believe that is testament to the unrivalled level of service we offer. I'm incredibly proud of my team and the relationships they build with all of our clients. No matter how big or small their requirements are, we value every single on for the variety, challenges and sense of achievement they all bring.
Hamworthy Heating has been with us from the very beginning, supplying them with books, manuals and catalogues.
"We have a longstanding relationship with CMP over their 25 years in business. They have remained a great supplied for our print jobs and you always get a personal service - we still deal with Paul on many of the projects, as well as his helpful team. They have worked on a variety of print jobs for us, from brochures with spot UV covers to wire bound price books and they have always kept up with changing times. In more recent years we moved to a 'print on demand' model with them which dramatically reduced our print costs, cut our wastage, and enabled us to react quicker to demand for different print material. We always like to work with local suppliers where possible and hope to continue working with CMP for another 25 years." - Ian Roe, Hamworthy Heating
The world we live in now is very different from the one we first started trading in. Consumers live in an "Amazon world", where they expect fast delivery, excellent communication at all stages and a level of customer service never seen before.
Any business that does not evolve and adapt to the way consumers make purchasing decisions now are destined for failure, they also need to be able to tailor their approach or find new markets. A lot of businesses are too rigid and set in their way, but CMP are not precious about positive change or evolution.
Print takes many shapes and forms, constantly evolving and changing with the times, but ultimately it's about providing a solution to customers' needs and if that need changes, so will we.
The COVID-19 pandemic has affected so many businesses and it's important to remember that although we may be fighting strong now, others may not be faring too well. The ripple effect will be long-lasting and the ones prepared to innovate and evolve will stand the best chance of survival.
Although the global pandemic has affected everyone, we've been able to continue trading with minimal changes. Of course, we have social-distancing policies, regular use of face masks and hand sanitiser, but our team really are the best bunch of hard-working people you could ever find. They get the job done, no matter what.
Supporting Our Local Community
One thing that has become apparent during 2020 is our need to ensure that our community continues to be supported, something we've always done over the last 25 years.
Thousands of young footballers are scoring goals and keeping fit with their Cherries heroes - through our sponsorship of the AFC Bournemouth Soccer School. Without these Soccer Schools and the dedicated individuals, grassroots football would not reach as many children in as many communities as it does today. We've loved being able to contribute and help bring so many smiles to so many children's faces and it's a privilege to say we can put a little something back into the community.
"Having previously supported AFC Bournemouth's Community Sports Trust over a number of years, with their kind sponsorship of the Bournemouth area Soccer Schools, CMP continue to support their local football club in numerous ways. We take this opportunity to thank Paul and COMP for all that they have done for AFC Bournemouth, both past and present, and wish the company every success for the future." - Rob Mitchell, AFC Bournemouth
We also helped raise over £3,000 for Macmillan Cancer Support after taking part in the Macmillan Dorset Bike Ride, as well as supporting many other local charities that are close to our hearts.
"We are a very small charity working to improve the lives of local disabled children. Paul heard about our work and offered to support all our printing needs. For a small charity, this is absolutely amazing and has allowed us to really get out message across. Nothing is too much trouble for CMP and the quality of work is outstanding. We have a lovely working relationship with Paul, and his team have even volunteers to help out at our events. It would be absolutely true to say that with the support of CMP Print we are able to help out so many more children and for this, plus their great service we are truly grateful." - Patsy Hallmey & Scott Akam, Founders of The Dorset Children's Foundation
"Paul and the team at CMP have been fantastic supporters of Julia's House over a number of years and we are very grateful for the difference they make to the lifeline of care we provide to local children with life-limiting conditions and their families. From attending our events, supporting us on social media and gifting the printing of our marketing materials, their support and generosity is hugely valued. We're delighted to see them celebrating their 25 year anniversary and look forward to staying in touch over the next 25! A huge congratulations to everyone at CMP from everyone at Julia's House." - Caroline Attreed, Julia's House Corporate Fundraiser
Here's to the next 25 years!
Back to Listing
Previous
Next