AFC Bournemouth Soccer Schools Grow With Help From CMP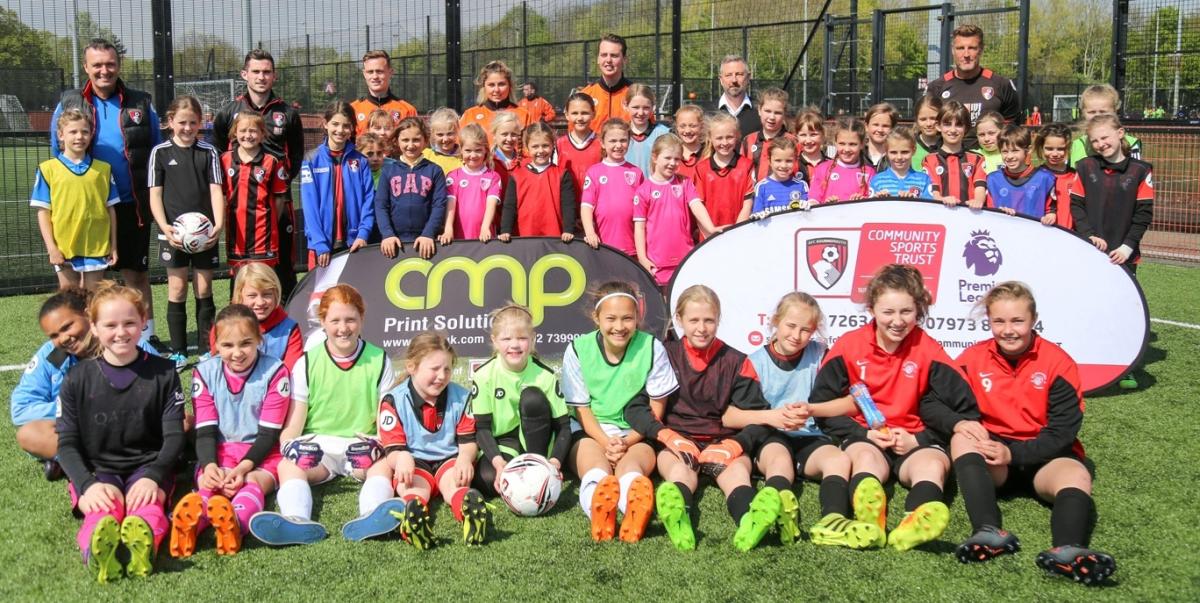 Thousands of young footballers are scoring goals and keeping fit with their Cherries heroes – thanks to support from CMP Digital Print Solutions.
CMP is proud to sponsor AFC Bournemouth's Soccer Schools during the school holidays. More and more youngsters are taking part as the sessions grow in popularity.
Cherries stars Emerson Hyndman, Lewis Cook (who captained England's victorious Under-20 World Cup team) and legend Steve Fletcher are among those supporting the youngsters at the training sessions.
AFC Bournemouth's Soccer Schools are open to boys and girls aged 4-14. They are held at:
Littledown Centre, Bournemouth
Blandford School, Blandford
Purbeck Sports Centre, Wareham
Merley First School.
AFC Bournemouth's Head of Community Steve Cuss paid tribute to CMP's support: "CMP has been absolutely fantastic in terms of support. It has enabled us to grow the Soccer Schools.
"It's great to have a partner who sees the benefit of physical activity and the enjoyment of sport for young people," he added.
This is the third season that the Poole-based printing company has sponsored AFC Bournemouth's Soccer Schools.
CMP's Owner Paul Dawe said: "It's an absolute pleasure to support Steve and the guys in all that they do and provide for the community.
"Without these Soccer Schools and the dedicated individuals, grassroots football would not reach as many children in as many communities as it does today.
"I'm just glad we can contribute and help bring so many smiles to so many children's faces. The whole team does such a great job and as always it's a privilege to say we can put a little something back into the community," he added.
For more information, please contact CMP Owner Paul Dawe, 01202 739993.
Back to Listing
Previous
Next