CMP: Environmentally Friendly Printing
Whilst it's crucial for all companies to be as environmentally friendly as possible, businesses in the print industry are, by their very nature, hugely exposed to issues such as recycling and sustainability.
As demand increases, printing companies will be in continuous need of huge quantities of paper resources which, naturally, require the large-scale harvesting of trees.
However, CMP prides itself not only on its ability to consistently meet customer demand but, also, in the environmentally sensitive manner in which we operate.
Firstly, CMP have only ever used the most responsible paper suppliers. This allows us to be sure the paper we use and, ultimately, send to our customer is obtained through morally sound methods as well as being of incredibly high quality.
In addition, CMP are also a proud member of The Woodland Trust, an organization which strives to protect the UKs woodland plants and animals. We are pleased to announce that, between July-December 2015, CMP managed to successfully create 759.32m2 of new native woodland in the UK.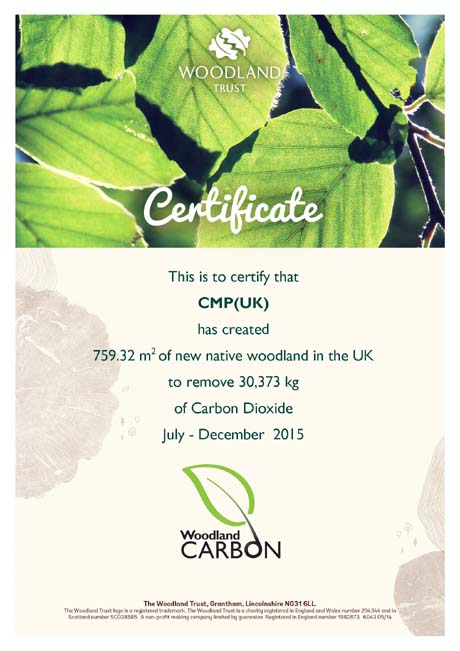 This is fantastic news and shows how even a company such as CMP, with incredibly high turnaround and a reliance on natural resources can operate in a sustainable way.
Furthermore, this will also lead to the removal of over 30,000kg of Carbon Dioxide (CO2) from the earth's atmosphere. CO2 is one of the most abundant greenhouse gases and one of the biggest causes of global warming.
At CMP, we continuously strive to maintain and improve the way in which we operate in order to reduce our ecological footprint as well as, where possible, ensure we function in an entirely sustainable manner.
Back to Listing
Previous
Next