CMP injects confidence into their sales team with Ricoh investment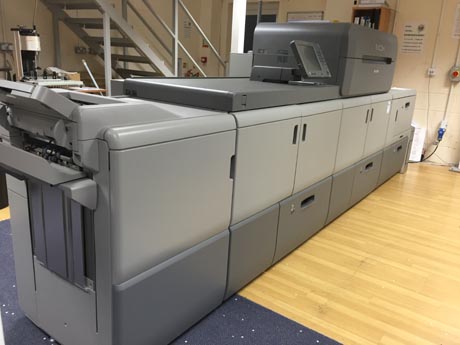 CMP invest in the Ricoh Pro C9110 to help support expediential growth in to 2016.
Through the deployment of brand new sales offices, it's more essential than ever that CMP can confidently deliver to their clients with fast turnarounds across the country: Paul Dawe said "The Ricoh machine C9110 will allow us to take our innovation to the next level. The Pro C9110 will help us to deliver our most immediate needs which will at the same time demonstrate continuous improvement."
Well known for providing clients from all arenas across the world with innovative and unique digital print solutions, CMP and Ricoh have developed a strong relationship in order to drive this forward. By reinvesting in Ricoh's very latest technology, CMP is delivering considerably higher volumes of high quality work with fast turnarounds to stay ahead of their demanding clients.
CMP pride themselves in providing a service that is so far unchallenged. By creating a quality service, thus enabling clients to focus on their core business, the Ricoh Pro C9110 series of digital production powerhouses helps to achieve these goals for clients.
Stephen Palmer, director, production print, Ricoh UK & managing director of Ricoh Ireland said "Having been in partnership with CMP for some time now, we would like to ensure we continue to strengthen our relationship by consistently delivering to ensure that CMP is able to enhance client value and increase client satisfaction. We are proud of the innovative features, high performance and durability of our production printing portfolio and this is clearly demonstrated via the Ricoh Pro C9110.
Back to Listing
Previous
Next