CMP Raise £6900 for NSPCC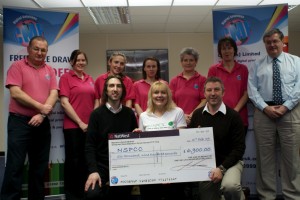 During 2008, Poole based Digital Print Company CMP raised £6,900.00 for the NSPCC by donating 1/2p in every pound spent by its customers. Managing Director Paul Dawe (pictured with Carrie Cardale and CMP staff) was delighted with the amount raised and is now looking forward to exceeding this amount during 2009.
"With many of our clients are in the Education sector it seemed an obvious choice to support the NSPCC and all the great work they do for our children" said Paul. "It certainly makes you realise how fortunate we and our children are when you see the work these guys do" he added.
CMP have set their target at £8,000.00 for 2009 and look forward to the continued support of the clients to help them achieve this.
Carrie Cardale, the NSPCC's South West Corporate Fundraising Manager said: "I would really like to thank Paul and everyone at CMP for their fantastic support. The NSPCC relies heavily on donations and fundraising and this donation will make a huge difference to the lives of local children and young people."
Back to Listing
Previous
Next