CMP support AFC Bournemouth Community Sports Trust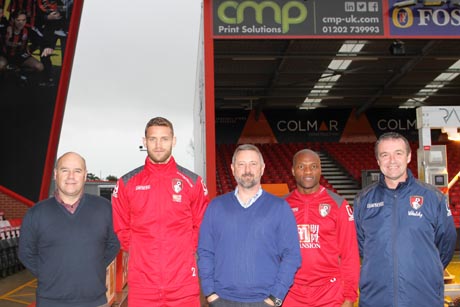 CMP Digital Print Solutions have pledged to keep the ball rolling for youngsters in Bournemouth, Wimborne and Purbeck across the 2015-16 season.
The Dorset based digital print providers have signed up to sponsor AFC Bournemouth Community Sports Trust's soccer schools for the coming year.
This support will allow the trust to continue to run the popular holiday courses for local boys and girls aged between 4-14 years old.
"Our soccer schools are very popular with the children in the local area," explained Steve Cuss of AFC Bournemouth Community Sports Trust.
"CMP's support will allow us to continue offering these great opportunities to children during the school holidays."
Paul Dawe of CMP also commented, "It's an absolute pleasure be able to support Steve and the sports trust in all that they do and provide for the community."
"Without these soccer schools and the dedicated individuals that run them, grassroots football would not reach as many children in as many communities as it does today.
"I'm just glad that we can contribute and help to bring football to so many children in the local community."
CMP UK is a nationally recognised company specialising in digital printing. From black and white to glorious full colour, CMP can provide the complete package for all short run and on-demand print requirements.
Back to Listing
Previous
Next