Project Spotlight: "Colouring by Maths"
No two print jobs are ever the same, particularly when you deliver projects to all manner of industries and sectors. Here at CMP we're just as likely to produce books for self-published authors as we are catalogues for a local retailer. To demonstrate the sheer breadth of our work we like to review projects on a monthly basis – sharing details on the client, their product and the brief handed to us.
For February we're heading back to school and Colouring by Maths.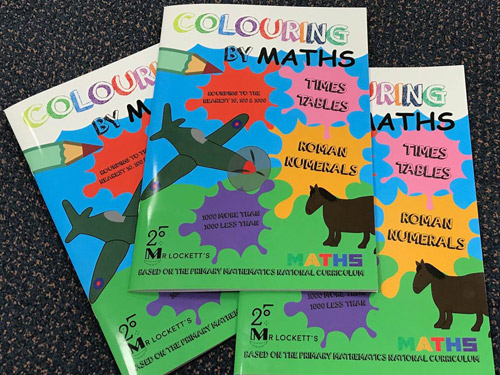 The brainchild of teacher Andrew Lockett, this publication has been created to help primary school children engage with a subject that can often intimidate.
Packed full of guidance on the likes of times tables, equations, rounding and Roman Numerals – the maths is simplified by the inclusion of 30 pictures awaiting colour, or some of it at least.
The second release of its kind, Andrew unveiled a 21 page PDF of the same name in 2017 – that aimed at Key Stage 1 pupils.
This newest edition targets those aged 7 and above. Centred on the Primary Mathematics National Curriculum, Colouring By Maths is the perfect visual aid for those currently learning in years 3 and 4 respectively.
A near decade in teaching has seen Andrew, a maths specialist, move from Croydon to Dorset, holding subject leader titles in both regions. He's also overseen the development of two apps – Paint By Maths and Astro Algebra – and is committed to updating his personal website with downloadable resources for students.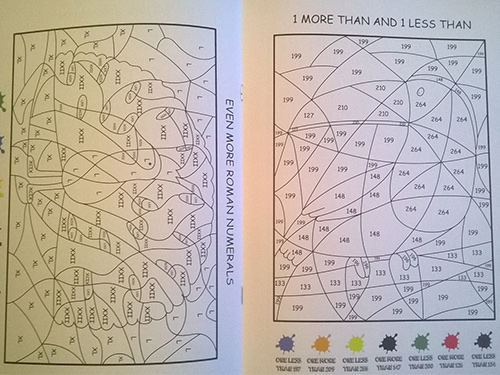 CMP were charged with printing this title to a high quality spec. The author liaised with us on the best paper type for his product – one that would lend itself to annotations and decorations made in felt tip pen. The result was a 205gsm silk coated cover, staple bound in such a way as to be rotated come time to colour. The inner booklet meanwhile was printed on a 170gsm offset – this a thicker material perfect for the intended use.
Elsewhere binding proved the subject of lengthy e-mail correspondence; spiral, saddle stitch and more options given serious consideration. So as to help with the selection process we sent Andrew hard-copy bound proofs – one wiro bound, the other booklet. Given time to compare and contrast, he eventually plumped for the latter.
Finally, we assisted in the creation of an attractive front and back cover, one gloss laminated. The final sleeve depicts the likes of pencils, aeroplanes, horses and dragons no less!
The full specification was then as follows:
A4 size
36 page booklet
Full colour
Saddle Stitched
Gloss Laminate Cover
One of the great aspects of this project is its links to the local community. Indeed all elements – from copywriting, to illustration, to printing – have their roots in Dorset.
Looking back on the process Andrew reflects: "I asked lots of different companies for advice and initial quotes on printing 500 and 2000 books to see the price differentials. CMP were very competitive cost wise and also answered all of my questions. They helped me to understand what I need to create my book.
The team were quick in replying and really open, offering me different quotes for paper, binding and numbers of books. They were super professional yet very helpful to a "small business" person like me who was learning what needed to be done!"
You can purchase your copy of Colouring By Maths at independent book stores such as P&G Wells, Bookends, BH 6 Books and Home and Dulwich Books. The title is also slated for listing on in the near future.
If you would like to discuss your own printing requirements with our excellent in-house team call us today on 01202 739993. Remember we undertake projects of all kinds, not simply books. We look forward to hearing from you and getting to work!
Back to Listing
Previous
Next