Project Spotlight: "Word of War"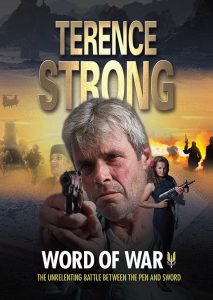 Here at CMP we undertake projects exciting and varied, delivering printing solutions to the likes of self publishers, training organisations, football clubs and more. Every month we like to shed light on a recent project and document exactly how the finished product came to fruition.
Our first Project Spotlight of 2018 gives a nod to the Special Forces.
Word of War is the latest instalment in Terrence Strong's revered collection of adventure thrillers. Set amidst the Arab Uprising and Colonel Gaddafi's unceremonious ousting from power, the story focuses on a super-secret E Squadron SAS and their marine turned close protection expert James Royce.
Charged with safeguarding MI6 officials, Royce's brief is soon complicated by a headstrong journalist named Jo Brampton, one ambivalent to his concern for safety. For Brampton is on a mission of her own and soon stumbles upon an almighty if perilous scoop, the misplaced birthplace of the deadly Islamic State.
Strong's novels are consistent both in theme and print. For this particular project the brief given to CMP was as follows...
Size: 234 x 156mm
Spec: 432pp printed black and white, section sewn, case bound, black cloth with silver foil block to the spine
Printed jacket to be in full colour with a gloss laminate
Quantity: 750
From the outset Word of War flowed smoothly. A near 40 years in the publishing industry meant Terence knew exactly what he wanted, something re-laid in an introductory meeting. An immediate rapport was struck and communication remained regular from thereon in.
All files were delivered promptly and to the highest standard and as CMP Commercial Director Paul Ford enthused 'it went through without touching the sides.'
That Terence would opt for case bounding is no great surprise; given its standing as the traditional method of printing for hard backs. Such casing ensures books are made of sterner stuff, their durability making for a longer shelf life.
The obvious benefit of a gloss laminate meanwhile is its visual appeal. Colours are afforded greater vibrancy, printed deeper and cleaner than a matte equivalent. Indeed strong cover art merits a gloss finish. Rightly or wrongly, it hints at a more professional product, which Word of War most certainly is.
Strong, who heads up his own Silver Fox Press publishing company, said of his dealings with CMP – 'I chose to print and produce Word of War in hard back with a full gloss jacket. I'm delighted with a superior product of the highest quality. CMP's keenest prices make them viable in today's highly competitive market.'
You can purchase your copy of Word of War at all good bookstores now. Signed copies of the novel are also available to order from Terence's website terencestrong.co.uk
If you would like to discuss your own book or printing requirements with our excellent in-house team then call us today on 01202 739993 and we will be delighted to help!
Back to Listing
Previous
Next