Project Spotlight: The Pooley's 2018 Flight Guide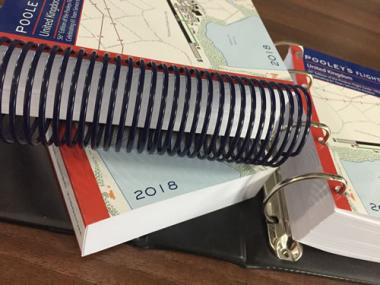 Each month we work on an exciting range of digital printing projects – from paperback books to A4 landscape brochures!
Our customer base ranges from self publishers to high end estate agents with many types of businesses in between – all of which require a high quality, cost effective printing solution to meet their individual requirements. This month we were delighted to be printing again for Pooley's – a highly respected name in the global aviation industry and one which celebrates its 60th anniversary this year. As well as selling over 2,500 products to pilots and flight training organisations across the world, Pooley's is particularly well known for its "Flight Guide: United Kingdom" – a guide which has been in circulation globally for the last 50 years.
In November, we have been putting the final touches to the 2018 edition of this legendary manual and are extremely happy with the results. Let's take a look at what was involved with this project and hear what Pooley's have to say about their long-standing experience of working with the digital printing team at CMP.
The New 2018 Pooley's Flight Guide: United Kingdom
Published every year since 1964, the Pooley's "Flight Guide: United Kingdom" is an 882 page directory for pilots featuring over 1,000 landing sites across the UK as well as full colour illustrated airfield plates and area charts in every guide. The latest addition is to be released on 1st December 2018 and is available in three print editions which are:
Bound
Spiral bound
Loose-leaf with binder
Due to its iconic status in the world of aviation and importantly - one of Pooley's signature products, it is critical that the guide is printed to an exceptional high standard.
Managing Director, Sebastian Pooley FRIN, MRAeS, says: "We have five printers who we push work out to for quotations but the majority of our work always lands with CMP because their pricing is excellent and we know we can rely on them to deliver a high quality product. It is a complex project that needs to be printed in a tight timeframe – but one that CMP produces with ease."
A Closer Look At What We Produced
Our brief was to produce a premium quality guide to the following specification:
5,000 copies
Size: 186 x 133mm
882 pages printed in 4 colour on a 70gsm white offset
4 page cover printed 4/4 and gloss laminated
We printed the guide with three binding styles:
1,000 x loose-leaf: trimmed 4 sides, drilled 4 holes, 16x4 pp maps printed 4/4 and collated into sets. Added to the book-block with front and back cover and an order form. Individually shrink-wrapped.
750 x perfect bound copies: order form added to the outside back and individually shrink-wrapped.
3,250 x plastic coil bound: trimmed 4 sides, covers added front and back, punched and coil bound with a special order blue coil. Order form attached and individually shrink-wrapped.
Why Pooley's Continue To Use CMP
As a long established digital printer, our work is underpinned by stringent attention to detail and an experienced in-house team. No project leaves our facility without full quality control and our excellent reputation is based upon this total commitment to excellence – every single time we print.
This is regularly confirmed by the feedback that we are delighted to receive from happy customers such as Pooley's Managing Director, Sebastian Pooley:
"I work with CMP because they have taken the time to understand my business. I have met the leading figures within the company and I always feel that they are working hard for my business. They are a friendly team who take the time to look at what we need and come up with innovative solutions. I cannot praise Paul Ford, our customer relationship manager, enough."
Each month we will continue to focus on exciting projects that we have worked on and look forward to working with new customers. Call us on 01202 739993 today to discuss your printing needs or get a quote today.
Back to Listing
Previous
Next